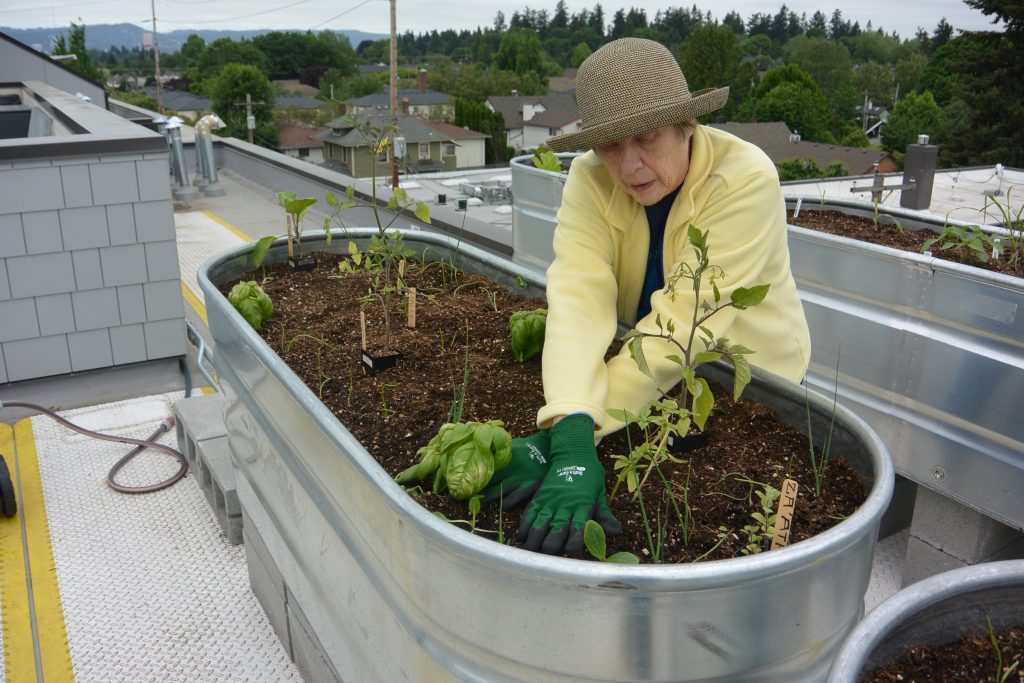 By Gretchen Brauer-Rieke
PDX Commons was a dispersed community before we all moved into our new building in August 2017. When we gathered pre-move-in, we often talked about what we most looked forward to once we were living in community.
In the months since moving in, I've wondered how well our expectations of cohousing are being met, so I decided to ask some of our members that very question: is living here what you expected, and in which ways is it not?
Most of us looked forward to easy sociability, sharing meals and common spaces, and having more opportunities to interact with each other and the world. By and large, people have found these expectations met in spades! Given our intentional building design, all of you have to do is open your front door and there is almost always someone out there to chat with. And there's always something going on with others — inside or outside of our building — that you can join in on.
One thing some of us did not expect was uncertainty about how to fit into the community — anxiety about being accepted and included, and concern about feeling left out. Those among the last to join us didn't have a chance to spend months or years getting to know everyone and working together on getting our building built and furnished. They didn't share the history that many of us did.
We were reminded that we need to be intentional about helping everyone feel part of the group. We're also learning that even while living in community, it takes some initiative to become part of activities rather than waiting for an invitation.
Some of us didn't expect that:
Living together would be so much fun!
So many issues with our building would remain to be worked out.
Reorganizing as an HOA would lead to so many more meetings.
We'd discover how small 900 — or 600 — square feet really is.
Moving and downsizing would be so stressful.
Stepping back from or stepping up to leadership roles would be so challenging.
Time and energy obligations to community life would feel so consuming.
It could be a struggle to maintain a balance with our outside life.
We'd have such delicious meals regularly.
And then there's the challenge of being in community with people you might not ordinarily choose to hang around with — because of their different way of being in the world or personality traits that grate on you. All of us are getting a lot of practice in being patient, assuming best intentions, not taking things personally, and giving people the space to be themselves without judging them. We're learning that we don't have to be best friends with everyone, but we do need to be kind, civil and gracious to all.
Perhaps least expected and most welcome is the ease with which our community has been able to slip into a shared life together — even in our first months, with all of their challenges. It's like we "got it" — the whole idea of sharing, inviting, creating space for fun and laughter, making meals together and much more. Most likely the almost four years of working together to get our building built gave us a good head start on learning how to function as a community.
As the months tick by toward our first full year together, we'll continue to have both met and unmet expectations. Fortunately, it will happen in a community that cares and steps up to meet all kinds of challenges with a determination to make it work.